Some of the many successes of the Rocking N Ranch
We get many compliments on the horses we have bred and we just wanted to share a few of them with you.
Here are some of our recent success stories:
Sent: Thursday, October 27, 2016 7:25 AM
To: nancy woods
Subject: Hi Nancy!
Birdy and Greyson are doing phenomenal! I am starting to take Birdy to "see the sights" I've taken her to obstacle courses, and friends houses. We recently went to a obstacle course fundraiser, and I took her. There was flags, pool noodles, tarps, plastic bags, tires, that inflatable noodle man you see at car washes, plastic bags, and even an inflatable pool, cut down the bottom and stood up to walk through, and she went through all of it! Both under saddle and in hand! I am very proud of her, and I think over the winter I will start her on barrels and breakaway. Nothing phases her, she's smart, and has a very good mind. Greyson has now had only 3 rides, and my little sister took him to a friends house and he trotted along like a broke horse. He has a very cool personality. A while ago, we watched him literally get in the water trough, lay down, and the trough broke in a million peices! It was hilarious though! They are both doing very well, and I'm excited to see what the future brings! :) Molly Breen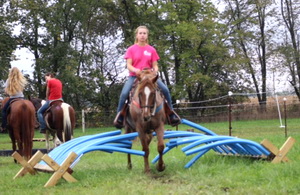 Sent: Sunday, October 16, 2016 9:48 PM
To: Nancy Woods
Subject: The boys
Nancy, I've been meaning to get back with you on all of this. Tomcat has been cut. He's making such a cool little push style barrel horse, so gritty and quick. And Frenchie is by far the most smart, and talented colt I've ever worked with. And this year I am in a high school rodeo association called WYRA (winners youth rodeo association). with Sherlock we have placed at every rodeo. The first we were in 3rd, the second rodeo, we were in 2nd place and this last rodeo I had on Saturday we got 1st place. Won checks at every rodeo. I am so proud of Sherlock, I just let him do his thing and he never fails me. I wanted to thank you because I wouldn't be where I am without these horses, and all that I've learned, they are pulling checks in the 1-D everywhere I go. And my HS rodeo (WYRA) we are at the top and it's the best feeling. I feel so accomplished and proud to claim that I've trained them myself. But also What I love is, I see all these girls whipping on these horses and all I have to do is kiss to Sherlock and let him go he just has so much heart and so much to give. He is an amazing horse. And I can't imagine what Frenchie will be able to do. Thank you for everything!❤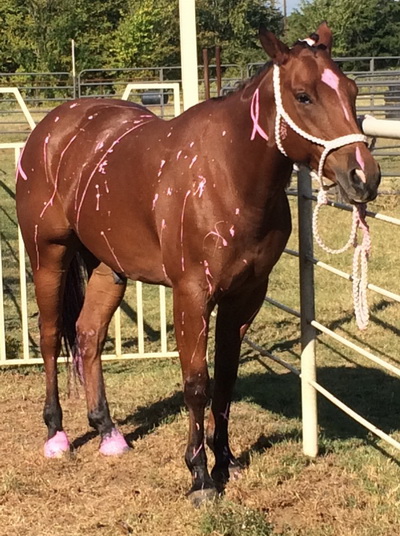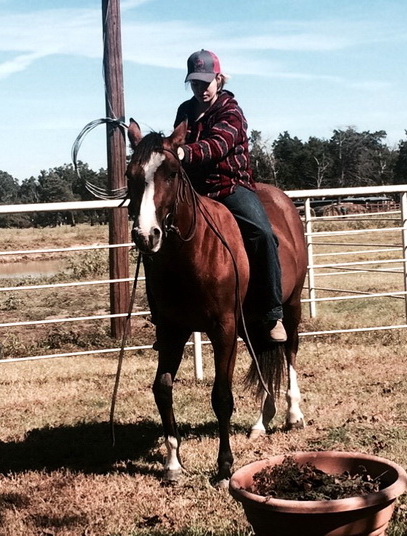 On January 20 2016, Garrett Walker bought "Della," an unbroke 21-month-old Poco Bueno filly out of our Mighty Blue Jack (Max)! He wanted to make a roping horse out of her, and from the looks of these pictures, he is getting along really well with her. He has done all the saddle breaking and everything else himself. He is 14 years old!! Della will be 2 on April 12. Della seems to have the same good mind as the rest of the Rocking N colts. According to Garrett, he saddled Della, climbed up on her, and she rode off like a broke horse with no buck or foolishness. He is now taking her out of the box!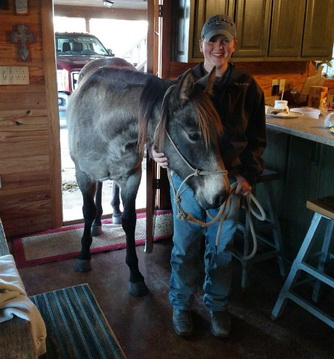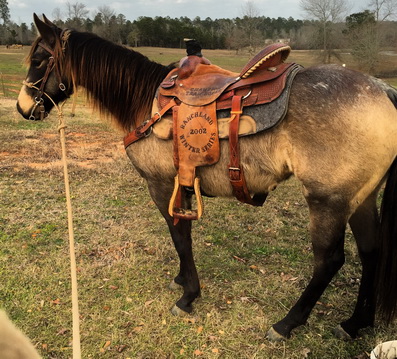 Dial Dolly for Muscle (Bisquit) was raised on the Rocking N, and has sired many of the horses we presently use in our breeding program. Bisquit has produced a world champion halter mare, a world champion barrel mare, a reserve champion pole bending mare, several outstanding PRCA Level calf and team roping Horses, 3 horses who have earned performance ROMs, and many top notch open barrel horses. His colts have had good minds and dispositions and never disappointed us. Windy and Mark Griffin are now standing him to outside mares at Rebel Barrel Horses in Sanger, TX
The first picture is Dancer and Izzy at the ABRA 2015 show. Izzy was world champion halter and barrel horse. Dancer, now a 4-year old Bisquit Baby, placed in poles, keyhole and barrels. The second picture is Izzy and Austen Griffith winning grand champion halter with Izzy, and the 3rd picture shows the Griffith family at the National Youth Congress where Austen was reserve congress champion with 3 firsts and a second. Izzy also placed 5th in the 2015 AQHA World show in halter.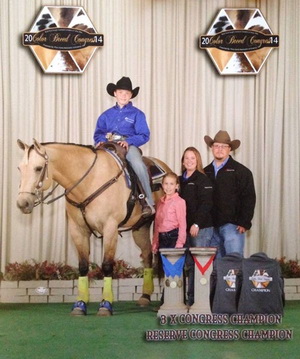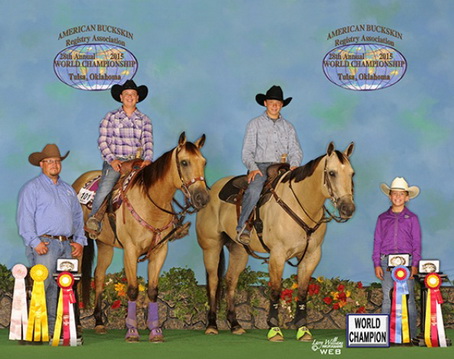 from email: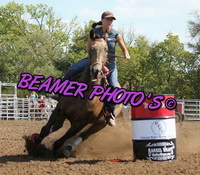 I finally looked completely through your homepage, and see that you are my gelding's breeder! I'm very excited to make contact with you. He is a gem and completely irreplaceable! Through his nearly 20 years he has roped some but mostly run barrels. He has a huge stride, and is all heart and try. And all those years, he is only been lame once when he banged his knee on something, and it swelled and needed drained. That's over 16 years with only one month down. Looking forward to hearing back from you! And I will have to attach a picture .
Thanks so much! Tisha Wikum (November 2015)
"Hi Nancy, It's Ardelle, I hope you are doing well and I miss you!!! Sandy is doing amazing she is such a great horse. We have shown halter and western pleasure and she has always finished in 1st or 2nd. She also managed to get a couple of reserve championships. I love this amazing horse. We have also started on barrels and she has taken to them nicely. I love the new crop of babies and I am interested in Hot Rod if you still have him. Also do you have any 2 year old colts that you don't have on the website? We are looking to get one additional horse but we already have 2 mares and would like to mix it up a little. Hopefully I will be able to see you soon. Thank you again for my awesome horse and I look forward to hearing from you soon." (October 2015)
"Nancy, I hope we find you well this fall! You might remember me an my husband Glenn, we bought two colts from you this past March -- George and Cody. Both colts are doing fabulous and we are playing around with backing both of them, though I don't intend on riding them until they're three. They are lovely and we are very happy with them. You have two brown colts that we wanted to ask you about - one is "Denver" and the other is "Beaver". We will be in your area again in March to ride with Buck Brannaman again, so it's possible that we could stop by and pick up some babies again. We'd love to hear more about those two colts, and see more photos, when you have time." (August 2015)
from facebook:
Mrs. Woods; I just wanted to let you know I have one of your horses Dandy's Wildwood that I purchased from Windy Griffith over a year ago and I absolutely love him. He is such a good boy so far we have ran barrels, poles, tracked cows on the heading & heeling side, thrown a rope over his head, and I have sorted cows on him (which he loves). You have a great program as I have came across others who have bought from you too and Windy I know speaks very highly of you, which is sometimes hard to find in the horse industry. Have a wonderful weekend and I hope to have another horse from Rockin N and Rebel Barrel Horses
from email:
Sent: Sunday, November 09, 2014 11:28 AM
To: Nancy Woods
Subject: Izzy Update!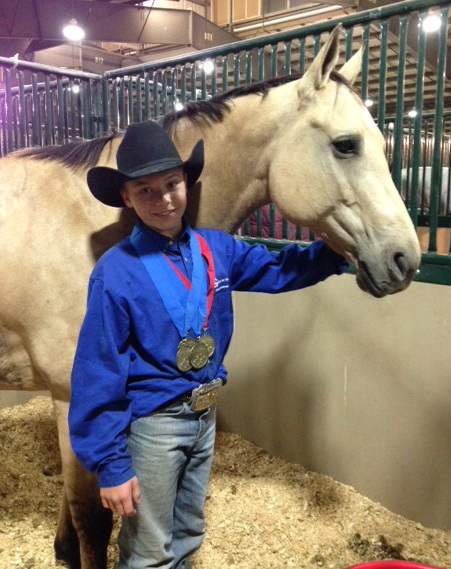 Hi Ms. Nancy!
I wanted to update you on Izzy and Austen. We went to the color breed congress in Tulsa Oklahoma to compete in all the speed events with Austen and Izzy. We need our performance points for ABRA to show performance halter. Well, they did it! Got all the points we needed to qualify! Won poles, stakes, key whole and took 2nd in barrels. It was very exciting! Austen had good competition and it was a close race in all events! And this was Austen's first competition ever w/ izzy in speed events ever!

Any ways thought you would like know and hope your doing good!
Windy

Sent from my iPhone
Email from satisfied customer [edited]:

Hello Nancy,

My name is Dave B. I am from Holt, Missouri. The reason I am contacting you is because I have owned a horse that you were the breeder of back in 1990. The horses name is TKS Dancin Diamond (out of Wild Tom Cat x Coptia Special), Mar. 1st 1990. I bought him from a man named Terry Taylor in 1993 as a 3 year old. I finished him out and have team roped on him for many years. I could not start to explain how good of a rope horse he was.

He is mostly retired now. However, my daughter also ran barrels, poles, and whatever else you wanted to do on him with excellent results in recent years. He was always super quiet but could run alot. Because he scored(heading) so well, but could run, I was highly competitive and won alot on him. I never felt like I was a great roper but he allowed me to compete against the top level. He also was very atheletic. Those quick feet combined with an excellent mind made one of the best horeses around....some told me. I have to agree.

.

.

I thought you might like to hear from someone who had a "once in a lifetime" horse that you bred. I would love to here back if you have the time. ...and would be curious to know if you had anything from similar breeding.

Thank you,

Dave B
From another customer: [edited]
Subject: Re: FW: : Just touching base .

Hi Nancy. This is Emily R. I bought Hope and Gayla from you about four years ago. I retired in January 2013 and have started working on breaking my mares in April. They are both coming along very nicely. I am currently riding Hope. She is the Alpha horse and never ceases to amaze me as to how intelligent she is. I am probably going to use both mares for trail riding. ...
It was good to hear from you. Please stay in touch I do enjoy hearing from you.

Emily R.
Congratulations to Lee Ann Lytle on her winning 4th at the northwest regional junior rodeo finals on Tomcat, Another Rocking N Ranch barrel horse.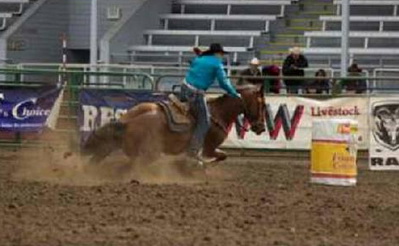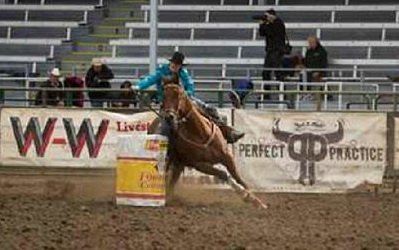 Another Email:

Nancy, my horse mentor came to see Otoe today. He has ridden and bred studs for 50 years. I met him 18 years ago and we hauled my mare with his stud. He's really a horse expert. He said Otoe was beautiful and the best Blue Valentine he has ever seen. Thanks again for your time showing us your great place and beautiful herd. Shane Leveret
And yet another Email:
Hi Nancy-

I wanted to reach out and let you know how wonderful the horses are, Victor ( Sherlock ) and Tomcat, have been the best horses we have ever had. I cant believe the temperament and great attitude, super smart and willing to work and please. Just awesome horses. Abby will be going to her first clinic with Wendy Griffith Nov 23 at rafter J to start her barrel training with Sherlock. I wanted to Thank You, the horses are everything you said they would be. Tim
Other Successes of Rocking N Ranch Horses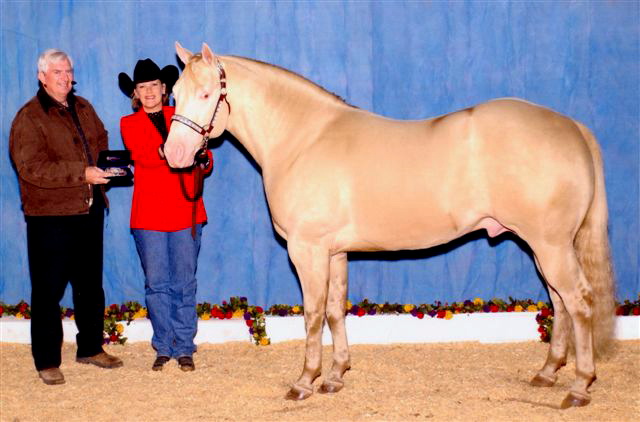 Congratulations to Vicki and Bill Taylor on their stallion, Sunny, for winning the 2006 Grand Championship 2-year old stallion in the Central Texas Quarter horse association. Sunny is a brother of Cocoa and is following in his sisters footsteps!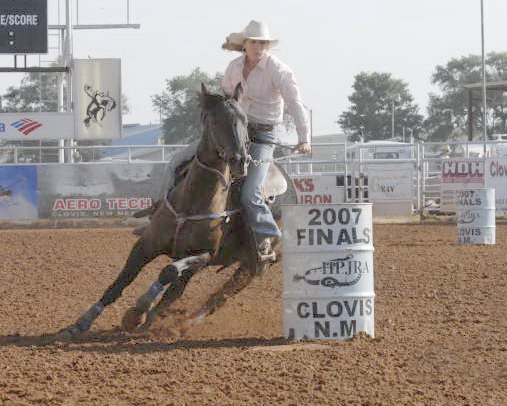 Congratulations to Ashlee Howard and Ace! Ashlee is shown winning the second go in the High Plains Jr Rodeo Assocation Finals. Ace helped Ashlee win rookie of the year. HPJRA is made up of members under the age of 20 from Texas, New Mexico, Oklahoma, and Nebraska. Ashlee purchased Ace from us in June of 2005. He turned 4 in March of this year and in limited hauling this spring, Ashlee has been running consistent 2D times. Ace is a full brother to Norman, also shown here, and is also a full brother to Rebel (Top Divi Prospect), who just made short go in the NBHA Youth World Show finals out of over 1,000 qualifiers. Buck is their sire.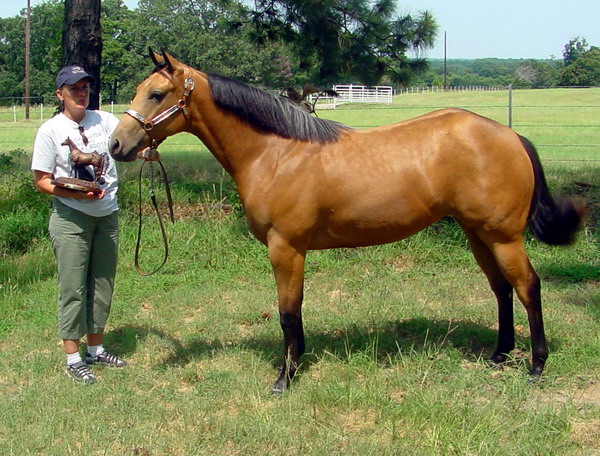 This filly, Cocoa, is owned by Bill and Vicki Taylor. She finished for 2004 as Reserve Grand Champion the East Texas Horse Show Association in the Yearling class and the same in Mares 5 and under class.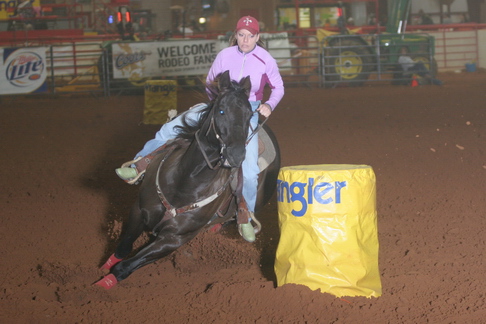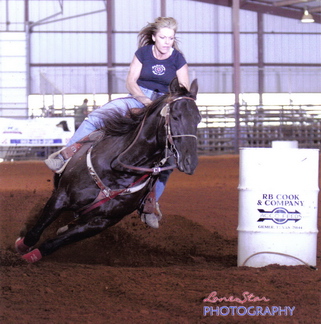 Here is Betsey Molnar and Norman. Betsey is shown riding Norman in several recent barrel races. He is a consistent 1D horse. Our stallion Buck is the sire of both Norman and our stud colt Flash, and their Dams were sired by our retired stallion, Hot Shot Divi, race ROM.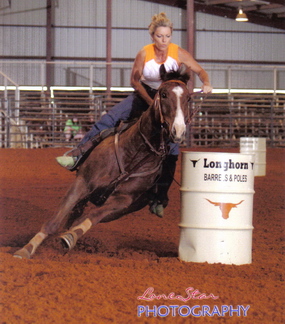 Betsey is starting Dollar on barrels. He also has Rocking N breeding.