Rocking N Ranch History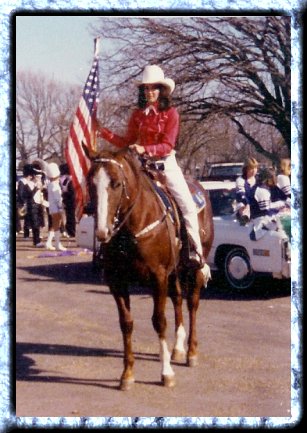 Originally founded in 1967 as a Simmental Ranch, the Rocking N Quarter horses were running and performance breeds used both as ranch horses and in competition by Nancy and her children. Her three children raised, trained and competed to win many youth championships in 4-H, Quarterhorse, and rodeo events, both on a state and national level. Rocking N Ranch's breeding stock is comprised of the offspring of that original band of horses. Our original bloodlines included King, Leo, Sugar Bars, Dividend, Doc Bar, Poco Bueno, Gray Badger, Triple Chick, and Native Dancer. We have preserved these bloodlines and have added Blue Valentine and Peppy San Badger.
After spending 40+ years of training and breeding Quarter Horses, 19 years of leading 4-H groups, and 10 years as a youth rodeo sponsor, Nancy feels that her life and her children's lives were very enriched by their horse activities and the friends they made. Through the responsibilities of owning and training horses, the children developed leadership and goal-setting skills, which they have applied to their educations and professional lives. Realizing the enrichment to the quality of life that owning a horse can bring, Nancy feels that people should be able to buy well-bred horses with competitive potential at reasonable prices! And, she would like to see more youth become involved in riding activities so that they, like her children, can experience the education and fun of owning a horse. At Rocking N Ranch, performance and disposition are foremost in the breeding program. Horses are bred and raised for barrel racing, working ranch horse, roping, and reining. The mares entered into the breeding program have been carefully chosen to continue the performance abilities of Rocking N Ranch's original band of horses.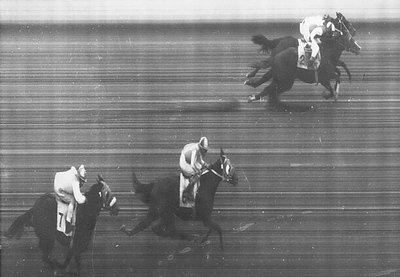 Shown above right is Nancy's daughter Amy on Hot Shot Divi ROM in an Edgewood Texas parade. Hotshot Divi, "Hotshot," earned his ROM as a 2-year old. In the picture to the right, he is shown winning his first race. He is No. 2. Hotshot did whatever he had to do to get the job done, and was as comfortable in the roping pen and in the pasture as he was on the track. This "Do what you need to do" attitude was reflected in all his activities, and he passed this on to his foals. His first filly, Miss Top Divi Doll (out of Copper Queen Gee), produced 12 foals, all of whom excelled in whatever asked to do. Presently 2 of her foals are running 1D times in barrels (See Ace and Norman on Success Story page). Hotshot is the grandsire of Flash, one of the stallions we presently use, and many of our broodmares are his descendents.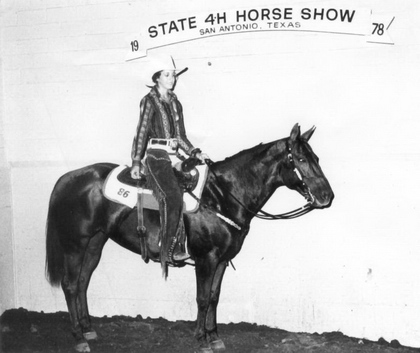 Copper Queen Gee "Bambi" was a double bred King mare that came to the Rocking N Ranch when she was 2 and barely green broke. Our daughter, Ilene, fell in love with her and trained her for 4-H competition. In 1978, when Ilene was 16 and Bambi was 13, she won the 4-H Texas State Finals in Reining out of 285 qualifiers and went on to place in the 4-H Southern Regional Show. This was the last year Bambi was shown as Ilene went on to Texas A&M, and Bambi became a broodmare. She is one of the originators of our herd, and we still have 3 of her daughters and several granddaughters who are still producing. This year, we are introducing her grandson, J.R. as a stud. Shown left is Ilene on Bambi. Another one of our legends was Happy.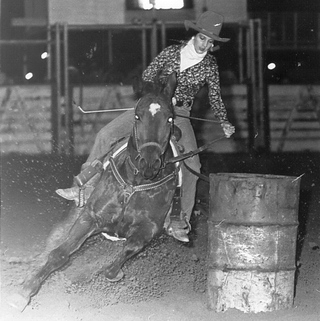 "Happy" was not only a 4-H all-around, but he won the finals in Lone Star High School Rodeo Association several years in barrels, and went on in Texas High School Regional Rodeo Association to quality for the National High School Rodeo Finals in Poles and Barrels. Ilene started training him, and ran him for 2 years in Lone Star, being Reserve Champion Barrel Racer for 2 years out of 75 barrel racers. Unfortunately, he fell and fractured his knee, but thanks to Dr. Travis Deen, who removed a bone chip, he came back and Amy continued riding him when Ilene went to College. She won 2 championships in Barrels at Lone Star, won both finals runs, and as a contestant in the Texas Regional High School Rodeo Association, qualified for the National High School Rodeo Finals in poles and barrels. Ellen Blackwood also won the Calgary Stampede with Happy. He was a Native Dancer / King cross. We purchased a half sister, and she is the other broodmare that has been a strong influence on our herd, having produced many other barrel horses. We are presently standing Flash, who is her grandson. Many of our broodmares are her daughters and granddaughters. This picture is Amy and Happy on one of their winning runs at Lone Star.