The Stallions of the Rocking N Ranch

Prospective Silver, Race ROM
"Buck"
AQHA #2822306 ~ Buckskin Stallion ~ Foaled: 04/15/85
We regret to note the passing of Buck, a register-of-merit Buckskin stallion, who has passed away in 2006. In the first 3 generations of his pedigree on the top side, total earnings have been $1,072,285. On his dam's side, he has such well known horses as Citation Bars, Sugar Bars and Leo. Buck has sired a great many of the mares in our breeding band and has sired many top barrel horses as well as youth all-around horses and roping horses.

DialDollyforMuscle
"Bisquit"
AQHA #3732613 ~ Buckskin Stallion ~ Foaled: 04/18/98
Bisquit was raised purchased from Theola Reed, who only raises cutting horses, to breed to our mares sired by Buck. He has wonderful conformation, a great disposition, and has produced some awesome colts. He just now has some offspring who are starting to be broke and shown. He passes his conformation and disposition to his colts, and as a plus, puts on his golden buckskin color. His pedigree below shows his breeding. Also shown is a 2-year old filly that is winning halter classes.
PS Native Flashdance
"Flash"
AQHA #x0613391 ~ Buckskin Stallion ~ Foaled: 02/28/02
Flash is a son of Buck and a Raise-a-Native mare that was sired by Hot Shot Divi, our first stallion. Hot Shot was an ROM race horse, but preferred working cattle to racing. He is shown on the history page with my daughter, who is leading the Christmas parade in our small town. Flash has best of all worlds. He has the disposition of all his grandparents as well as their speed. He represents all the good horses on this ranch. He has siblings running 1D times as well as some who have made outstanding roping horses. We are breeding him for the first time this year.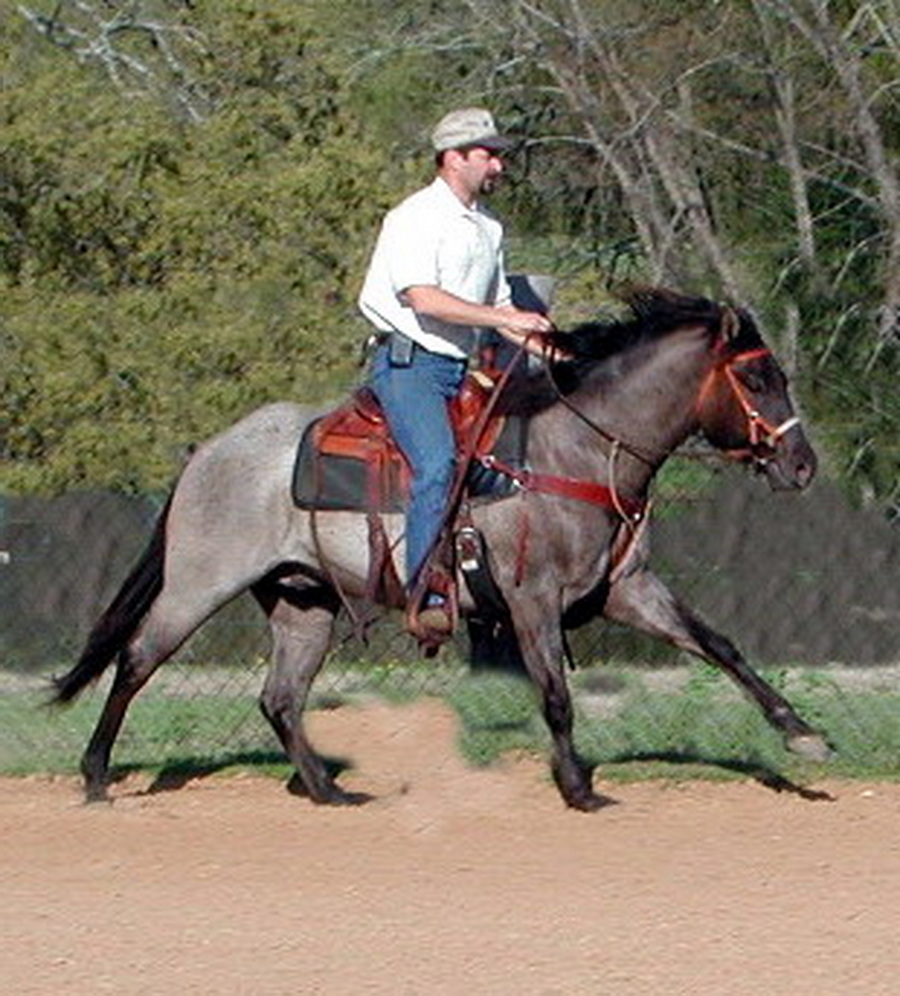 QB Mighty Blue Jack
"Max"
AQHA #4111335 ~ Grulla Roan Stallion ~ Foaled: 03/28/01
Max is a grulla roan stallion who is a great grandson of Blue Valentine and Watch Joe Jack. Both of these horses have excelled in almost every phase of ranch work. The value of these horses on the ranch has been well proven. Just ask any West Texas cowboy who relies on his horse to work his cattle!! He had his first two colts in 2004, and both were blue roan. Recently he had 7 colts, and from all indications, they will be roans also. Max is broke to ride and has a wonderful disposition.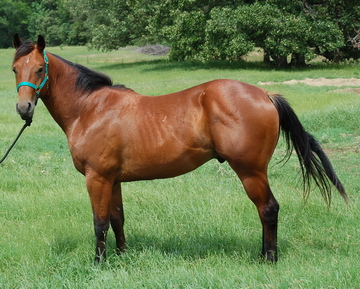 DD Copper King
"J.R."
AQHA #4758877 ~ Bay Stallion ~ Foaled: 08/16/05.
J.R. is a composite of the top bloodlines and good horses used by the Rocking N Ranch over the last 35 years. His dam (Prospective Copper) is a working cow horse. "Bisquit" (Dialdollyformuscle) is J.R's sire. J.R. will play a major roll in our breeding program.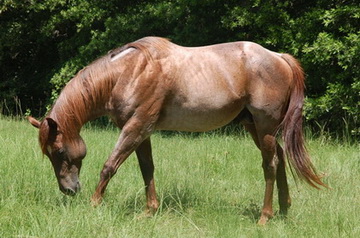 Like Meyers "Chick"
AQHA 5258355, 2009 Red Roan Stallion

Chick has 6 Hall of Famers in his first four generations. His pedigree includes:
Likenothinyoueversaw, SI 971999 Race ROM , Chicks Beduino, AQHA Hall of Fame, SI 104
Awesome Blossom, Si 104, On a High, SI 113, Prissy Gold Digger, Si 106