The Rocking N Ranch Secret Horse Ninja School
Click this title to see our new Spa and Resort!
Check out our Legends of the Rocking N!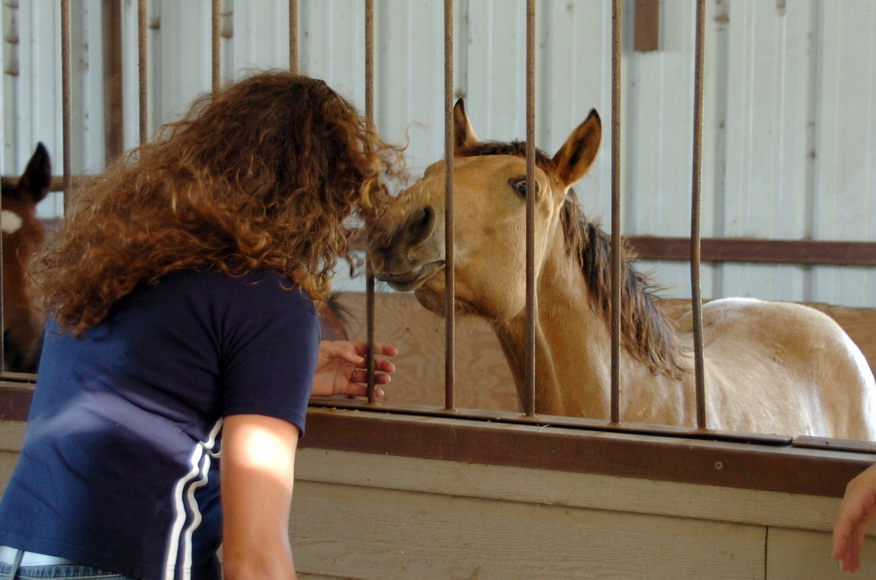 A colt is getting instructions from his Sensei.
Here at the Rocking N Ranch our horses are the friendliest and have the best disposition of any horses you'll find. We raise them for attitude and the skills will come with training. However, our horses are not sissies. They can hold their own with any other horse and they go through the famous Rocking N Ranch school of Horse Martial Arts. See below right as Flash barks orders to the new recruits.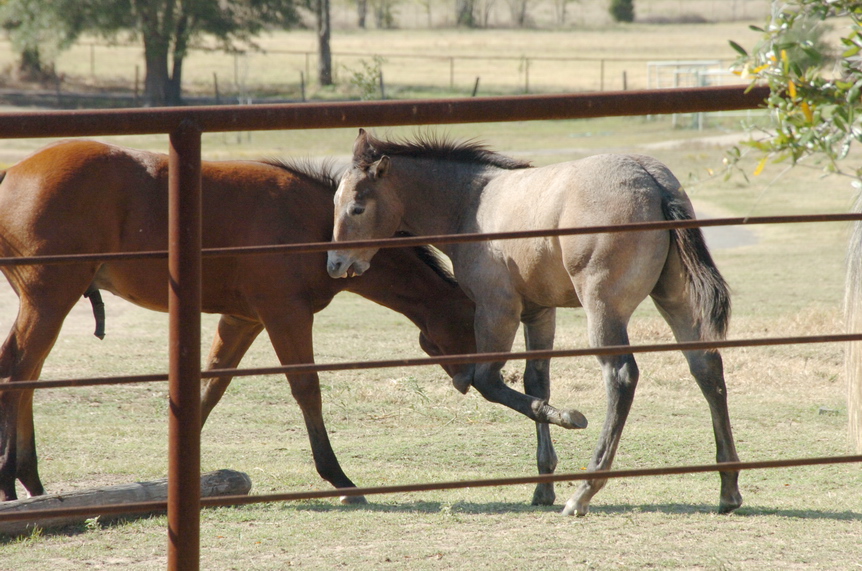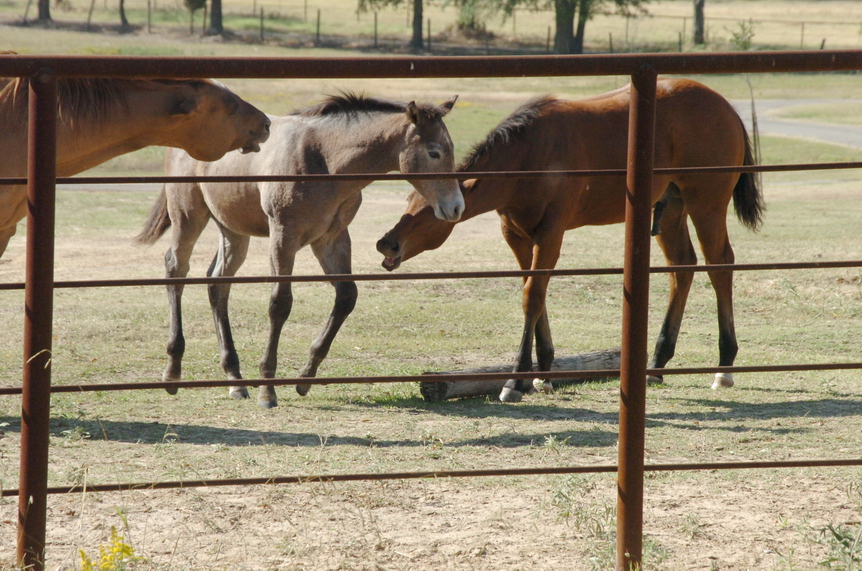 Left - A colt goes for the classic stud take-down. Right - A black belt horse calls instructions to sparring students.
With the top notch discipline and implementation of the Texas Horse Tacts Tests where no horse is left behind, you can rest assured you'll get a horse that can follow orders and take on the world!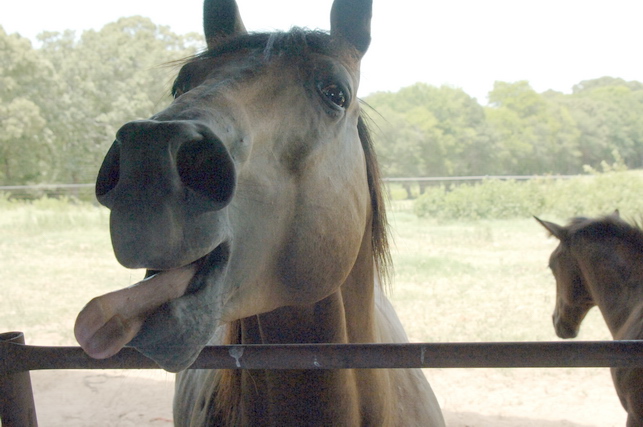 Left - A colt asks for advice from Grand Master Buck. Right - A horse demonstrates our multi-dimensional studies by showing a Maori Fighting stance.
New Stallion HORSEMEAT Acquired - WOW!!!
"HORSEMEAT" ROMBSN (Register of Merit BARN SOUR NAG)– AQHA Refused to Admit as Horse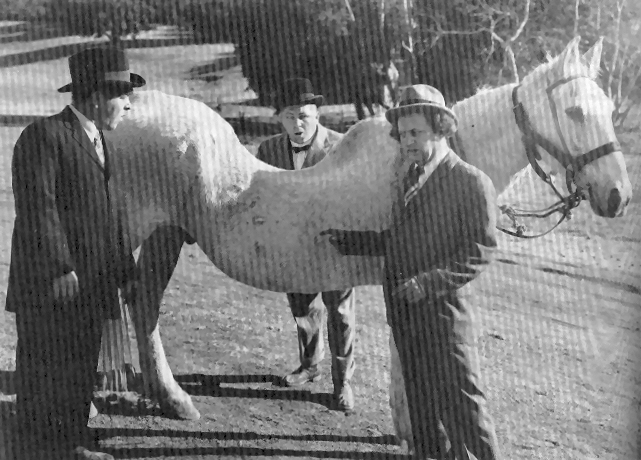 This is our piece of crap, "horsemeat." Since we have nothing good to say about him, we have to act sentimental, etc. so that you will think he is worth something. All he has going for him is his color, which we have to touch up since he really is brown but we bleach him out so he looks buckskin. Occasionally, he surprises us with a colt that is not knock-kneed, bow legged, buck toothed and something other than mule gray. Not often, though, so we mostly use him for decoration at Christmas when we fix him up with a beard and red hat and lease him out to the salvation army. Here Horsemeat is working with his trainers. If you would like to ride Horsemeat, please remember to bring roller blades or roller skates.
Just look at Horsemeat's Stellar Pedigree! This is a horse and a half!
Man O' Sway Back - Sire
Sway Back There
Hay Burner
Leg Biter
Three Legged Joe
Last and Least
Nag's O Plenty
Jessa-dumb-belle
Lotsa Dogfood
Rotten Dogfood
Stinky Dogfood
Wurst Horse Ever
Mefistofele
Old Scratch
Beelzebub
Never Moves a Muscle - Dam
All-Night Bars
Barred from Racing
Soup and Salad Bars
Fedora the Cow
Iona Ford
Can't Afford a Horse
Swamp Thing
Muscle Head
Flabby Muscle
Pulled A Muscle
Flabby Pig
Caddillac Coupe D Ville
Fleetwood Coupe D Ville
Mrs. Ed
We are excited to announce Horsemeat's first foal!
Zipper Says "Say hello to Dogmeat!"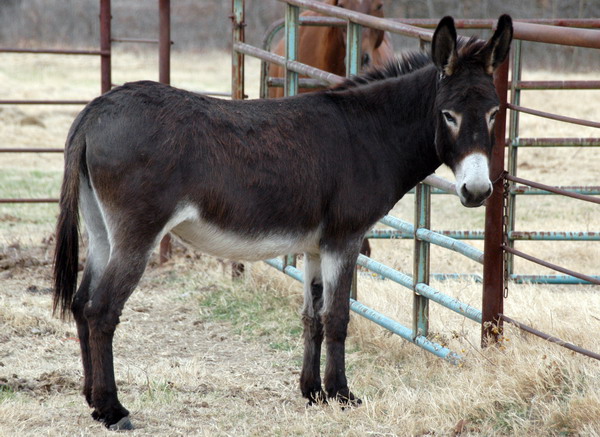 Double Baked Bread from the famous blood lines of Francis and Donkey (of Hollywood Fame) with the combination of Horsemeat's Jeans he should make someone very proud. Don't worry about the color Dogmeat will be a true Buckskin with a bit of latex paint. Our plans are to breed Dogmeat to Barbaro when she grows up. Hopefully her offspring, "Meat-a-bar-dog" will make us proud.
Meet our newest trainer John BUBBA Frere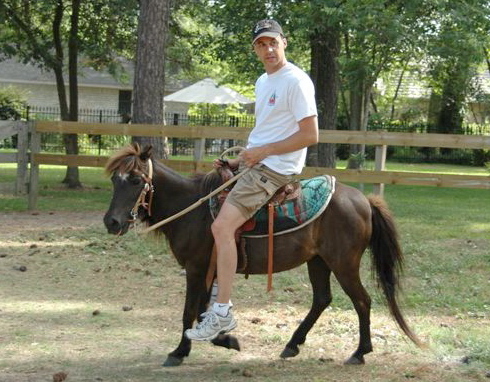 Here is John Bubba Frere, head trainer at the Rocking N, and his famous race horse, Streakin Sissie. Sissie is out of Dash for the Bathroom on the bottom side, and Compost Pile on the top side. This adds Manure Pile, Atomic Pile, and Deep Pile Carpet to Sissie's blood line. Actually, Sissie was supposed to reach 16 hands, but John's weight stunted her growth; Although very high strung, John finally got her broke to the starting gates. Sissie turned 24 her last birthday!!